12 non-CX ways to stay inspired as a CX leader
The last months I spoke to over twenty CX leaders and most of them were just... um, how to say it.... tired. They were tired of the back to back online team meetings. The lack of seeing team members in person.
So I asked them, "How do you stay inspired?" Most of them had no answer. They did not plan anything for inspiration in their agendas. Yes, they were longing for holidays, but that is not what holidays are for.
I think, staying inspired is part of your JOB! That's why I give you 12 non-CX ideas how to do that.
Books
Oh, The Places You'll Go - Dr Seuss
A client gave me this book as a present. And I love it. It's packed with lots of insights and wit (and Dr. Seuss had plenty of both). With his lively illustrations, inimitable verse, and boundless optimism, Dr. Seuss reassures us that we're not alone in the maze of life - and that we'll reach where we need to be eventually! If you need a quick and wonderfully uplifting pick-me-up, this is your book!
Big Magic, Creative Living Beyond Fear - Elisabeth Gilbert
Everyone can unlock Big Magic. Big Magic is about drawing out your inner creative whenever you need. This book is a love letter to the artist inside everyone of us, written in Gilbert's conversational, no-frills, no-BS style. Whether your goal is to write a book, make a painting, or create music, Big Magic will help you accomplish it. Funny, honest, illuminating, and encouraging, it is a celebration of art on every level.
The 5 second rule - Mel Robbins
The 5 Second Rule promises to teach you how to become confident, break the habit of procrastination and self-doubt, beat fear and uncertainty, and be happier. As big of an ask as that might sound, Robbins more than delivers in this self-help book, which is built on the titular 5 second rule: the five seconds you should take every time you need to push yourself. You might enjoy her TEDx Talk on this subject as well!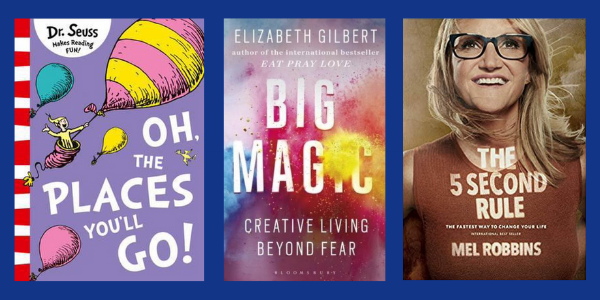 Podcasts
Happier with Gretchen Rubin
She is the best-selling author of The Happiness Project and Better Than Before, wants you to embrace happiness-and she's got the tools and strategies to help you do it. This engaging podcast, which she cohosts with her younger sister, Elizabeth Craft, is full of practical advice on building habits for happiness into your daily life. Down-to-earth, insightful, and humorous, this podcast will have you on your way to a happier existence in no time: https://gretchenrubin.com/podcasts/
The Life School Podcast with Brooke Castillo
She is very American, but I love her way of thinking and speaking out loud. In this podcast she takes life's topics, opportunities and struggles and helps making sense of it all. For example, episode 375, where she challenges her listeners to do hard things. Just what Customer Experience Management is all about... https://thelifecoachschool.com/podcast/
CX Travel Guide with Nienke Bloem
Yes, this podcast is a Dutch version and just before the summer holidays we recorded the 10th edition with Kees Klink. How is CX organised at PostNL? All episodes have something special, so listen up. You get a look behind the scenes in CX-land. https://kirkmancompany.com/podcasts/

Movies & Documentaries
Forrest Gump
A golden oldie, but my all-time favourite movie. A story about a boy that would never succeed in life. But gets the support and belief by his surroundings and just goes out to life a full and big life. The theme song "Feather Theme song" composed by Alan Silvestri still gives me goose bumps. A feel-good movie, you just want to watch to stop having 'bad thoughts' and get out there and do what you have to do.
Inside Out
A 2015 American computer-animated film by Pixar. A great film to learn about emotions. The film is set in the mind of a young girl named Riley, where five personified emotions-Joy, Sadness, Anger, Fear, and Disgust-try to lead her through life as she and her parents adjust to their new surroundings after moving from Minnesota to San Francisco.Maybe something to watch with your team or management colleagues. And to later ask "what emotions are our customers having at what moment in the customer journey?"
Seven days out
A documentary series on Netflix, where they film events seven days before they take place. From a Chanel fashion show to a dog show. Where I recommend you watch the episode Eleven Madison Park. As I always say "great customer experiences don't happen by accident", that is exactly what this business owner of the best restaurant of the world breaths. Watch is and be inspired, because it will question your vision on CX and will inspire you to spice it up.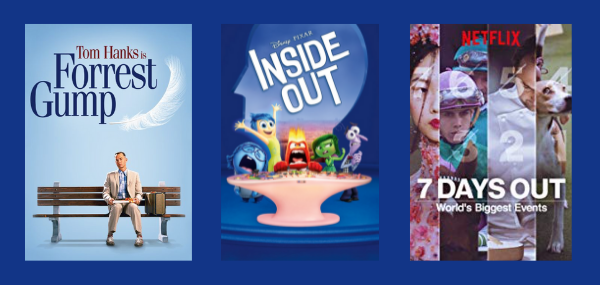 Three things to go do
Museum
Yes. Go to a museum. Just as I did; you could see this in the video. Be inspired by great exhibitions, paintings, sculptures. By the way museums make you feel, the way they present stories. Buy artifacts in the museum shop and use these in your CX practice. Go with a leader or your team. Have a discussion later of what can be used in your CX practice or in your story telling. Don't forget to take pictures of what inspired you: always good to use in presentations later.
Library
Every city has a library. You know that great building full of books? In the city of Utrecht they just opened a new central library and it is just gorgeous. The atmosphere makes me feel calm instantly and I just like to take books out of shelves. Sometimes having a question in mind and having fate answer it. I once did a Random Book Club session with Marieke van Dam and was amazed what inspiration you can get out of ANY book. Yes, you can search for business, management or CX books. But also try soul searching, biology, or even children's books. So much fun to just spend an hour or two in your library. Or one in a different city ?. I promise you, inspiration guaranteed!
Take a guided walking tour in any city
It is fabulous to go to a city and book a guided walking tour. I remember a walking tour I did in 2020 in Amsterdam. My tour guide was one of the best bakers of the Netherlands. He told me so much about the city, the buildings, but also his life. He even took me behind the scenes in the Waldorf Astoria and told me how to make the best croquets. What a fabulous experience! A guided tour always brings you new insights. And never forget to listen how guides share their stories. They know their facts, but the really good ones know how to deliver their stories and make them stick. They make sure you see the city through their eyes and you will remember elements of their stories, because they framed them. Just like a good CX Story should be. Like I can never pass the Vijzelgracht, without going for a croquet and saying hi! to Cees.
I went out on a 3-day inspiration adventure myself. I recorded a video in which I tell you about this inspiration adventure and in which I give you ideas how to stay inspired. My best suggestion is to plan inspiration time in your calendar. REALLY! Enjoy the ideas and let me know what worked for you.
https://www.nienkebloem.nl/wp-content/uploads/sites/142/2021/07/12-non-2.png
400
400
Nienke Bloem
https://cluster.swstatic.nl/wp-content/uploads/sites/142/2021/03/Nienke-Bloem-Logo1.png
Nienke Bloem
2021-07-16 08:03:29
2023-08-04 11:59:10
12 non-CX ways to stay inspired as a CX leader