Shifting gear when it comes to Speed in Customer Experience Management?
You might think, this is weird; what does speed have to do with CX?! Let me explain and start by sharing my personal story of last month in Italy. Most of you know that I am walking a pilgrimage. The Via Francigena is my path for the next year. 1,000 kilometers by foot. A challenge that I have to take bit by bit, day by day. It will take time, but as I continue walking, putting one foot in front of the other, believing I can, dealing with all kinds of hurdles; I will get there. I call this my Slow and at this moment Strategic fundamental track. To think of life's choices, find energy, challenge the fundamentals and grow stronger.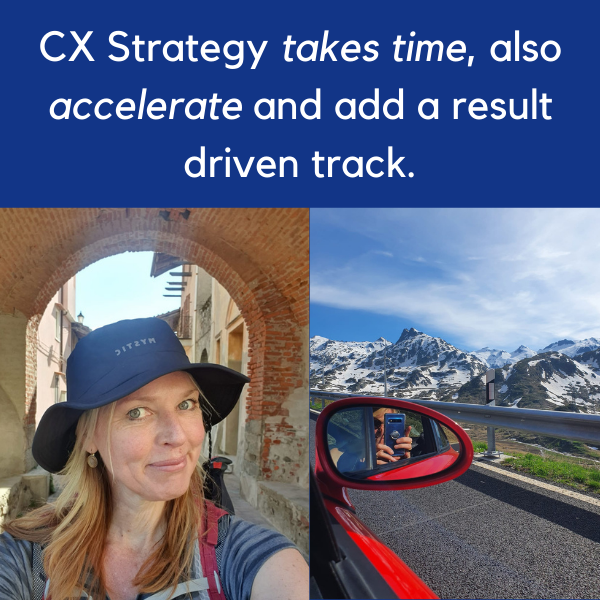 Besides my pilgrimage, I also had the chance to join the MilleMiglia in June. The 1,000 mile race from Brescia to Rome and back. Classic cars travel this journey in 4 days. They need a fast pace, a dedicated crew that helps if the cars break down and, of course, some encouragement along the way (that was me ?). Roads are blocked off and a whole group of Italian carabinieri guides the group of 350 exclusive cars towards the finish. I call this the Result Driven Innovation track.
Both tracks require travel and are 1,000 kilometers or miles. But both have a different purpose. Just like we should approach customer experience management!
Tracks with different purpose and speed
Most Customer Experience Managers struggle to deliver results. Which might even result in losing CX ground in reorganization plans, or a decrease in budgets. I am not talking of proving your ROI, but in showing the organization that CX is making THAT impact, that it is lined up for. For really improving the situation of the customer in a direct way.
That is also why these two speeds are needed. Because what I see is that many CX professionals are focusing on the What and the How, the strategic fundamentals. The What: customer promises, brand promises, guiding behavior, defining design principles. The How: the way design thinking is done, building an architecture of listening through insights, creating training and guiding the organization to a consistent customer centric way of working. Yes, these are both needed! But know that Walker sees also a disconnect when it comes to what organizations and the C-Suite expect of you and customer experience management.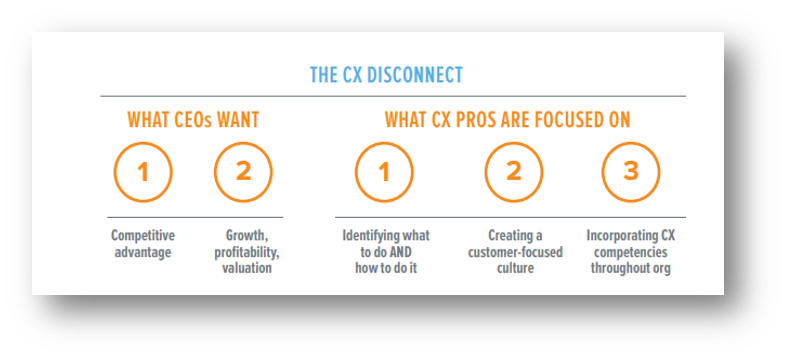 CEO's want you to deliver competitive advantage and growth and profitability. Recognizing what CEOs value and what ultimately drives competitive advantage, CX professionals must do three things:
Align efforts with the business outcomes CEOs want. CX professionals must connect the dots and show how CX initiatives result in concrete outcomes.
Build an engaged customer-focused workforce by helping employees identify with the customer and have a voice in the customer experience.
Lead innovation, coupling customary break fix activities with breakthrough initiatives.
Strategic Fundamental track
When I am looking at my theory on two speeds of Customer Experience Management, I suggest you build your CX practice around these two tracks:
The Strategic Fundamental track
The Result Driven innovation track
In the Strategic fundamental track, you are focusing on the long term. You define the What and the How and guide the organization towards the customer centric future. Guiding principles, storytelling, culture. Let me give you a couple of examples. In this track, you build your CX strategy (actually most of the elements out of the first discipline of the CX framework is in the strategic fundamental track). You define the future state of CX. You define the way you listen to customers and systematically engage the organization around the voice of the customer, also using metrics. You build business cases based on ROI and prove the value of CX. You define the principles of customer centric innovation, define how to prioritize best and build a customer centric culture program. You see? All elements in the What and the How, are guiding towards the customer centric transformation.
But this is not enough, you should also shift gear!
Result Driven innovation track
The Result Driven innovation track is where you show the organization that you really work on improving the lives of your customers and improve the customer experience. So, not just facilitating design thinking sprints, but also delivering prototypes, scaling up those experiments that have proven their worth. Working on closing the loops. Really calling back customers, fixing those customer issues that are broken and actually measuring the impact.
This my dear CX friend, is what most CX professionals are not doing (enough). We need to hammer on improving and delivering those results that are needed and once we do, we need to communicate our customer successes with the organization.
As Bruce Temkin so eloquently said "While CX teams need ongoing support from their executives, senior leaders are prone to doubt. CX leaders need to keep communicating the progress and success of CX efforts and demonstrate that resources are being well used and any risks are effectively managed". What I love about this quote, is that he brings two elements together. Communicating the progress and demonstrate that resources are well used.
By only focusing on the Strategic Fundamental track, chances are you don't have enough results to show. So, consider adding that second Result Driven innovation track to your CX portfolio. By adding specific CX projects, getting your hands dirty on these customer issues that need to be fixed.
Project #99
A great example is "Project #99" where Clint Payne CCXP won the title International Customer Experience Professional of the year in 2018. In Multichoice, a South African Telecom and Television provider, he identified 99 common customer complaints. Together with his team he created a bottom-up approach, where employees and leaders in the company were encouraged and helped to solve these often long time known issues. Feel free to read more on his approach and the campaign. What were the results? Escalated customer complaints dropped from 733 in November 2015 to 476 in Feb 2017, client churn dropped by 1.8% and self-service went up from 55% to 65%.
So, the three most important questions you have to ask yourself:
Be honest to yourself, are you delivering enough direct customer results?(If no, or in doubt, continue with question number 2)
What percentage of your activities is in the Strategic and what percentage is in the Result Driven track? (Are you happy with these numbers?)
What can you do to improve your CX results that customers are facing and shift gear to the Result Driven track?
Enough food for the mind. In August 2021 I will continue my pilgrimage and the Strategic Fundamental track I am on. The MilleMiglia was this great adrenaline kick, and I will definitely be back in 2022 to support these fab cars and their drivers.
But for now: I am curious for your thoughts on my theory on the Two Speeds of Customer Experience Managent that are needed. Do you recognize the disconnect and the need for both speeds? Please let me know in the comments!
https://www.nienkebloem.nl/wp-content/uploads/sites/142/2021/06/Shifting-gear-in-CX.png
400
400
Nienke Bloem
https://cluster.swstatic.nl/wp-content/uploads/sites/142/2021/03/Nienke-Bloem-Logo1.png
Nienke Bloem
2021-06-29 17:29:05
2022-01-25 14:34:56
Shifting gear when it comes to Speed in Customer Experience Management?