CX Framework series #5: Organizational Adoption and Accountability
The foundation of your customer experience success
Moving your organization towards customer centricity, which values the happiness of your customers as a top priority, could be a tough change. This change needs to be supported by a majority in the organization and colleagues need to be held accountable for their responsibilities in making it happen. Sure, such a change might bring a lot of uncertainties and insecurities across all disciplines, but it will pay off in the end.
Driving customer experience change
Of course models are just a simplified representation of the real world, but they do provide a good insight in how complex processes, such as organizational change, could be carried out. So, the road map to make your organization a customer centric one should roughly look like this:
Determine where you want to have impact
Determine the key stakeholders
Find out what their most important KPI's are
Know who makes the decisions; what is the governance structure
Know what other projects are in place that may impact on your success
Make a proposal/project plan/business plan
Get agreement on your plans
And continue to work on improving the customer experience, tirelessly.
It may sound easy enough, but anyone who tried to make any change within a large organization knows that this process is a very tedious one. Especially when the essential elements of CX organizations are not yet in place.
The essential elements of Customer Experience in organizations
Every organization that has a customer centric focus needs to have 5 essential elements, to let customer experience play a central role in everyone's day-to-day life: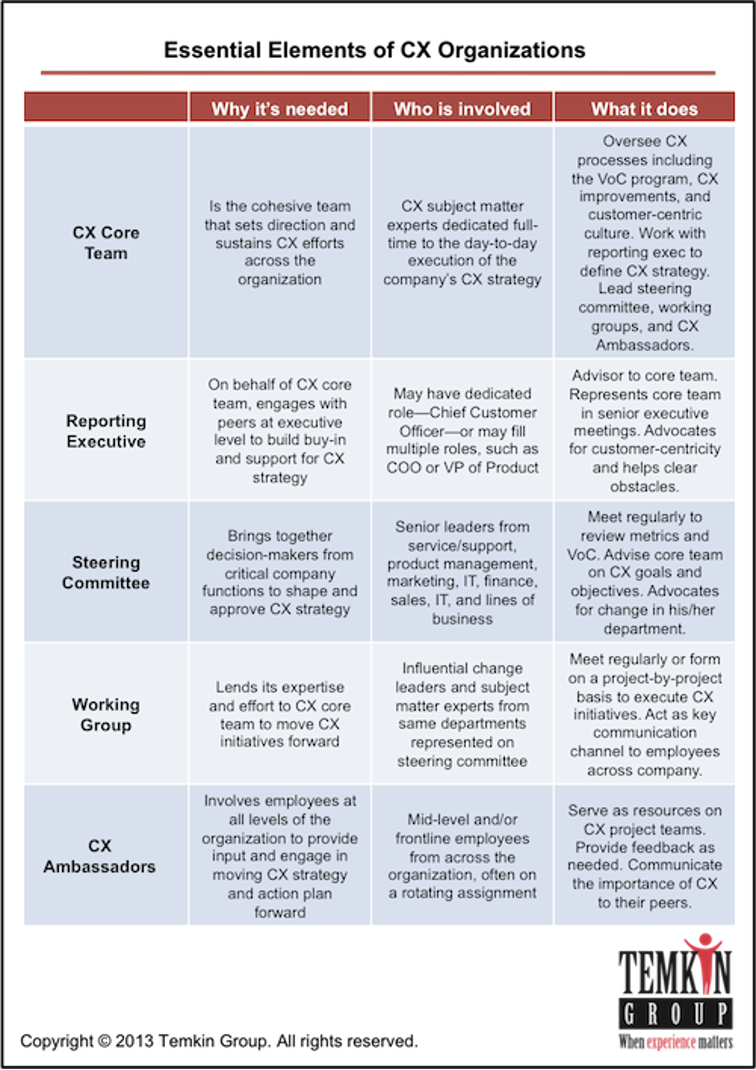 CX Core team. These are the men and women who are dedicated Customer Experience professionals. They define a CX strategy and roll it out throughout the rest of the organization.
Reporting executive. This person builds the bridge between the CX core team and the C-level suite. They report the results from team to management and give input to the team based on their comments.
Steering committee. These are the senior leaders from the different silos in your organization. They review metrics and methodologies and give their advice to the core team.
Working groups. Although they may be a level lower in the hierarchy than the steering committee, these people really drive the customer experience change in their respective silos.
CX ambassadors. These are the people that work on project teams to drive customer centricity forwards. They can be from any level, but are mostly mid-level and/or frontline.
However, as said before, the maturity of your organization has a huge impact on how these roles should be set up. If customer experience and a customer centric mind set have just been introduced in your organization, setting up these elements won't do you any good. Being customer centric is not a decision you make overnight and certainly not one that is implemented quickly. By continuous improvement and a strong focus on customer happiness, you can make any organization customer centric.
What works very well when it comes to driving Customer Experience change?
Customer Experience is a business principle. So working with metrics and proving growth and success always works. Finding buy in with important stakeholders and aligning Customer Experience metrics; like NPS, CSAT, CES. Make sure your most important metric is in the top 5 of your company. An easy check could be the balance score card or the year report. How is customer centricity represented? Find your way to the C-suite or the leaders of your company and find alignment on metrics. Create accountability at the top with metrics. But not only metrics are of importance.
Try to find a way to the heart, the believe that customer centricity is a very effective way to go. Because loving your customers, is the start in customer experience success.  To reach the hearts of leaders within companies, evangelizing and storytelling come in.
Customer Experience Managers and their teams are often small and have to influence entire organizations. Find smart alignment strategies, use shared co-ed accountability for metrics, a broader range of groups and steering committees and change will be your result. But know, this 5th strategy of the CX Framework is your fundament to success. Think and work hard on your governance and organizational alignment. If you want to learn more?
Want to grow your Customer Experience competences?
These are only some of the highlights Milou took away from attending the Customer Experience Masterclass. Would you like to know more? Join our next CX Masterclass in February or June 2018, click here for more information or here for reserving your place
Customer Experience Framework and complete list of blog posts in this series
This post is part of a wider series about all the 6 CX disciplines that represent the CXPA Framework around which the CCXP exam is structured and that we cover in the CX Masterclass. Follow Nienke Bloem and Rosaria Cirillo on Linkedin or sign up to this blog post feed to be notified as soon as a new blog post is published.
Find here the complete list of the other posts in this series:
Governance
About this series
The foundations for these blogposts are written by Milou van Kerkhof following the June 2017 CX Masterclass given by Nienke Bloem and Rosaria Cirillo. Milou attended this as a newcomer in Customer Experience. These blogposts have been slightly edited and reflect only the highlights of the content of each module.
https://www.nienkebloem.nl/wp-content/uploads/sites/142/2020/11/5-Organizational-Adoption-and-Accountability.jpeg
400
400
Nienke Bloem
https://cluster.swstatic.nl/wp-content/uploads/sites/142/2021/03/Nienke-Bloem-Logo1.png
Nienke Bloem
2017-11-27 12:55:55
2022-01-25 14:35:01
CX Framework series #5: Organizational Adoption and Accountability