September 26, 2022 came my new book CX is a pilgrimage out. In it, I share with you 50 tips to boost your leadership.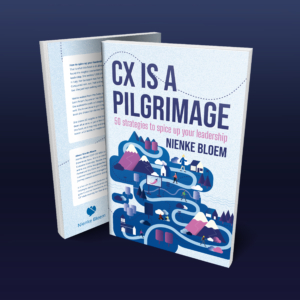 On May 17, 2022, I turned 50. A day I have been living (and walking) towards. Because in March 2021, I was feeling down, bored and in dire need of adventure. I decided to go on a pilgrimage and started walking 1,000 kilometers of the pilgrim path 'Via Francigena' in Italy. Today on my 50th birthday I walked into St. Peter's Square in Rome. I can proudly tell you that on May 17 I will celebrate two milestones: my birthday and the stamp of Rome in my pilgrim's passport!
Experiences on the pilgrim's path
During my 45 days of hiking, I was confronted with all different elements. Steep mountain paths, heat, hail, blisters, dogs and especially with myself. There was only the path, an occasional passer-by, my backpack and me. Time enough to think and reflect. At some point I realized that walking a pilgrimage has a lot of similarities with customer experience management.
Inspiration for other (CX) leaders
"Nienke, you should write a book about it," people around me said. And that's exactly what I did. An English-language book with my 50 lessons on the road. Accessibly written for CX leaders, or really for anyone dealing with customers. You can read the book in one sitting, or you can pick it up from time to time when you need some inspiration as a CX leader.
I have learned that the universe always provides. Let my book be a part of that. It will help you on your journey as a CX leader. Or as a leader of your own life.
Would you like to order directly through us? You can if you order three or more copies of the book.
Readers about CX is a pilgrimage
An unexpected take on Customer Experience
Who would have thought that there is a connection between a religious experience and CX? Well, in case of Nienke Bloem there is a strong one! Very interesting and personal take on how sometimes ordinary moments or situations which happen in life, can be easily translated into customer experience and the role of a CX leader. The stories shared by the author are short, sometimes funny, sometimes crazy, but always insightful. The book allows you to take a different perspective and reflect on your own path as a CX leader.
Entertaining and inspiring stories for a different perspective on CX
In her book, Nienke Bloem provides practical tips for CX leaders to become more effective and make their work more enjoyable. The content is delightfully "snackable" because it is 50 short stories that can be read separately. In addition to inspiration for CX, as a reader you also get a fun insight into the journey and experience of someone on a pilgrimage. Highly recommended!
Very useful, practically applicable tips and considerations that seem to make CX almost easy
It is a book that is full of good practical tips and considerations that are easy to apply. They are explained with great examples or metaphors and the book also reads easily. In short; snackable useful content!
Useful CX tips written in a light and funny way
What happens when the CX guru of The Netherlands starts walking a pelgrimage? You get a book with 50 inspiring, funny, useful, 'snackable' tips to improve the way you deal with customer experience in your company. A recommendation for all CX leaders, and a nice CX gift for CX teams.
Frequently asked questions
I'd be happy to answer any questions you might have about my book in advance.
What does the book cost and where can I find it?
The paperback costs €25 including VAT. In the Netherlands, you can order it through Managementboek or another online or local bookstore.
Can I order the book through your site?
Yes, you can, if you order three books or more. You will receive a calculation of the cost: number of books x € 25, plus shipping costs, depending on the number of books you order and to which country they have to be shipped. If you order more than 10 books, please know that we can make a special price for you. Once you agree with the calculation, we will send you an invoice and ship the books directly after your payment. And of course Nienke will sign them for you.
I live in Belgium, can I order your book online?
Yes, you can! Bol.com offers this book on its site and also delivers to customers in Belgium. An e-book is also available for €17.50 including VAT.
I don't live in the Netherlands or Belgium, can I still order your book?
You certainly can. Soon the book will be available as an e-book on Amazon.com. If you want to read the paperback, you can order directly from us, provided you order more than 2 copies. We will first make you a proposal, including shipping costs. After payment, we will ship your books immediately.
I would like to order this book for my audience during an event. Is that possible?
Brilliant idea! Nienke has a great keynote: CX is a pilgrimage, so that's a wonderful combination. Send an email to [email protected] if you're considering her and/or her book for an event and she'll be happy to tailor a special proposal for you.
Is this book interesting for me, even though I am not a CX professional?
Yes, it is. This book is relevant for any professional who deals directly or indirectly with customers. This book is not full of jargon, so everyone van understand and learn from it. It may help and inspire you to spice up your journey as a business leader, a CX leader, or just as a leader in your personal life.
Did Nienke write this book in her blue dress?
Of course she did. That's exactly why the book breathes her fun and always honest personality. Fifty Shades of Blue, always mixing walking the pilgrims path and her CX expertise.
Would you like to order directly through us? You can if you order three or more copies of the book.
Nienke Bloem CCXP CSP MBA
I have the 'stars and the scars' when it comes to Customer Experience, with excellent results in various organizations, in both strategic and tactical roles. Hence my motto: Making Customer Experience Work. I will help you to improve your business results by using Customer Experience Management. In short: "I breathe CX just like you!
They call me the CX guru. Next to being a global speaker, I'm also a thought leader and CX teacher. I am one of the ten CXPA Resource and Training Partners worldwide who is allowed to train others. I also work as a freelance lecturer at Nyenrode University. My CX Masterclasses and workshops help CX managers and CX teams on their way to being customer-focused. As a co-founder of the CX Game, I also enjoy CX blended learning.
With more than 25 years of experience in the corporate world, I am the go-to person to help you further in Customer Experience!